The Ultimate Guide to Keeping Your Yoga Mat Fresh and Clean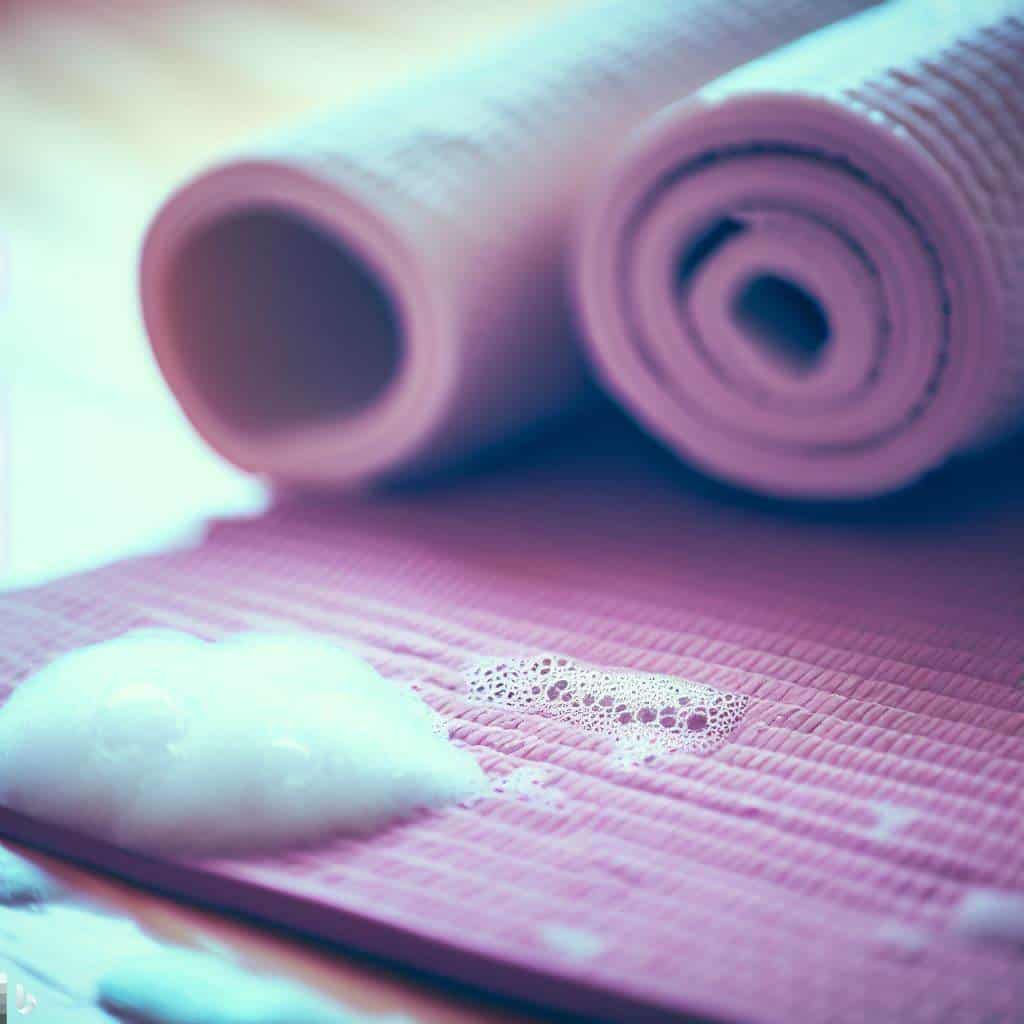 The content on this blog may contain affiliate links. If you choose to purchase through these links, I may receive a commission at no extra cost to you. Thank you for supporting my work!
As a yoga enthusiast, you know that your mat is an essential tool that lets you practice comfortably and safely. However, did you know that it can also harbor bacteria and germs that can cause unpleasant odors and even skin infections? That's why it's crucial to clean your yoga mat regularly to keep it hygienic and fresh. In this article you will l earn how to clean your yoga mat with this detailed guide. Keep your mat in top condition and prevent bacteria build-up for a healthier practice.
Sweating, dead skin cells, dirt and dust can accumulate on yoga mats and create a breeding ground for bacteria, fungi, and viruses that can cause health issues and reduce traction and slip-resistance.
Cleaning your yoga mat regularly is crucial to keep it hygienic and fresh and prevent unpleasant odors and even skin infections.
To clean a yoga mat, you will need mild soap or detergent, water, a soft cloth or sponge, and essential oils (optional).
It is important to avoid using harsh chemicals that can damage your mat and to clean it after every use.
The Importance of Cleaning Your Yoga Mat
Sweat, dirt, dust, and dead skin cells are just some of the things that can accumulate on your yoga mat after every practice. If left unchecked, they can create a breeding ground for bacteria, fungi, and viruses that thrive in warm temperatures and moist environments.
These microorganisms can cause skin irritation, rashes, acne breakouts, foot fungus (like Athlete's Foot), or other infections that may put your health at risk. Moreover, an unclean yoga mat can also affect the quality of your practice by reducing traction and slip-resistance.
Common Misconceptions About Cleaning Yoga Mats
Despite the importance of cleaning yoga mats regularly, many people still believe in some misconceptions about what are the most effective or safe ways to do so. Let's clear them up: – Myth 1: You don't need to clean your yoga mat if you only practice occasionally.
Wrong! Even if you only use your mat once or twice a week or month, it can still accumulate sweat and germs over time.
It's better to prevent any potential health issues by cleaning your mat every time you use it. – Myth 2: You should wash your yoga mat in a washing machine.
Not necessarily! While some manufacturers might state on their labels that their mats are machine-washable, not all mats are created equal.
Some mats have natural rubber or cork materials that may degrade when exposed to harsh detergents or high-speed agitation. As a general rule of thumb, it's safer to hand-wash your yoga mat using mild soap and water.
If you use an eco-friendly yoga mat made from natural material, I suggest you check out these in-depth guides for how to care for your yoga mat:
Supplies Needed
Keeping your yoga mat clean is an essential part of maintaining a healthy practice, and it's important to have the right supplies on hand. Here are the supplies you'll need:
Mild Soap or Detergent
When it comes to cleaning your yoga mat, you don't want to use anything too harsh. A mild soap or detergent will get the job done without damaging your mat.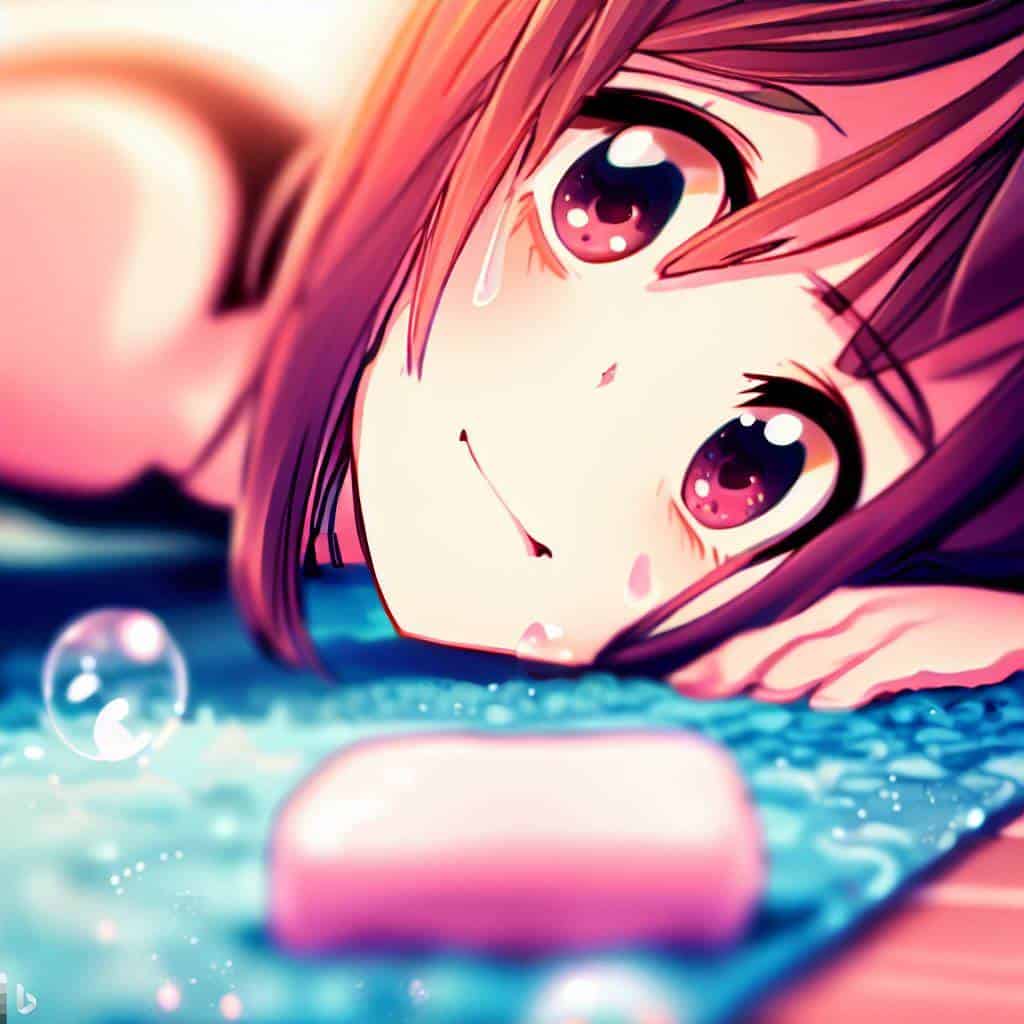 You can use a standard dish soap or laundry detergent, as long as it doesn't contain any bleach or other harsh chemicals. Alternatively, there are specially formulated yoga mat cleaners available on the market.
Water
Of course, water is also an essential component of cleaning your yoga mat. You'll want to fill up a bathtub or sink with warm water in order to soak and clean your mat thoroughly.
Soft Cloth or Sponge
It's best to use a soft cloth or sponge when scrubbing down your yoga mat. Anything too abrasive could damage the surface of the mat and shorten its lifespan. A microfiber cloth is a great option, as it's gentle but effective at removing dirt and grime.
Essential Oils (optional)
While not necessary for cleaning your yoga mat, adding a few drops of essential oils can help freshen up your practice space and add some aromatherapy benefits. Tea tree oil is a popular choice for its antiseptic properties, but you can also experiment with lavender or peppermint for their calming or energizing effects. Just be sure to dilute the oils properly before using them on your yoga mat!
Can I use vinegar to clean my yoga mat?
Yes you can! Here is a full guide on how to clean your yoga mat with vinegar.
Cleaning Process
Pre-cleaning Preparation
Before you start the cleaning process, it is important to remove any large debris or dirt from the mat. This can be done by simply shaking it off or wiping it with a damp cloth. Once this is done, fill a bathtub or sink with warm water for soaking the mat.
Soaping and Scrubbing
Add mild soap or detergent to the water in the bathtub or sink and mix well. Using a soft cloth or sponge, dip it into the soapy water and gently scrub your yoga mat. Pay extra attention to areas that come into contact with sweat, such as hands and feet.
It is important to note that you should never use harsh chemicals such as bleach on your yoga mat as this can cause damage. Essential oils such as tea tree oil can be added to give your mat a nice scent but are not necessary.
Rinsing and Drying
Once you have finished scrubbing, rinse your yoga mat thoroughly with clean water to remove any soap residue. Squeeze out excess water from the mat using a towel – do not twist or wring out the mat as this can cause damage.
The next step is drying your yoga mat. You can either hang it over a shower rod or lay it flat on a dry towel to air dry.
Avoid direct sunlight when drying as this can cause fading of color and deterioration of material. By following these simple steps for cleaning your yoga mat, you will ensure that it remains hygienic for regular use while also maintaining its durability.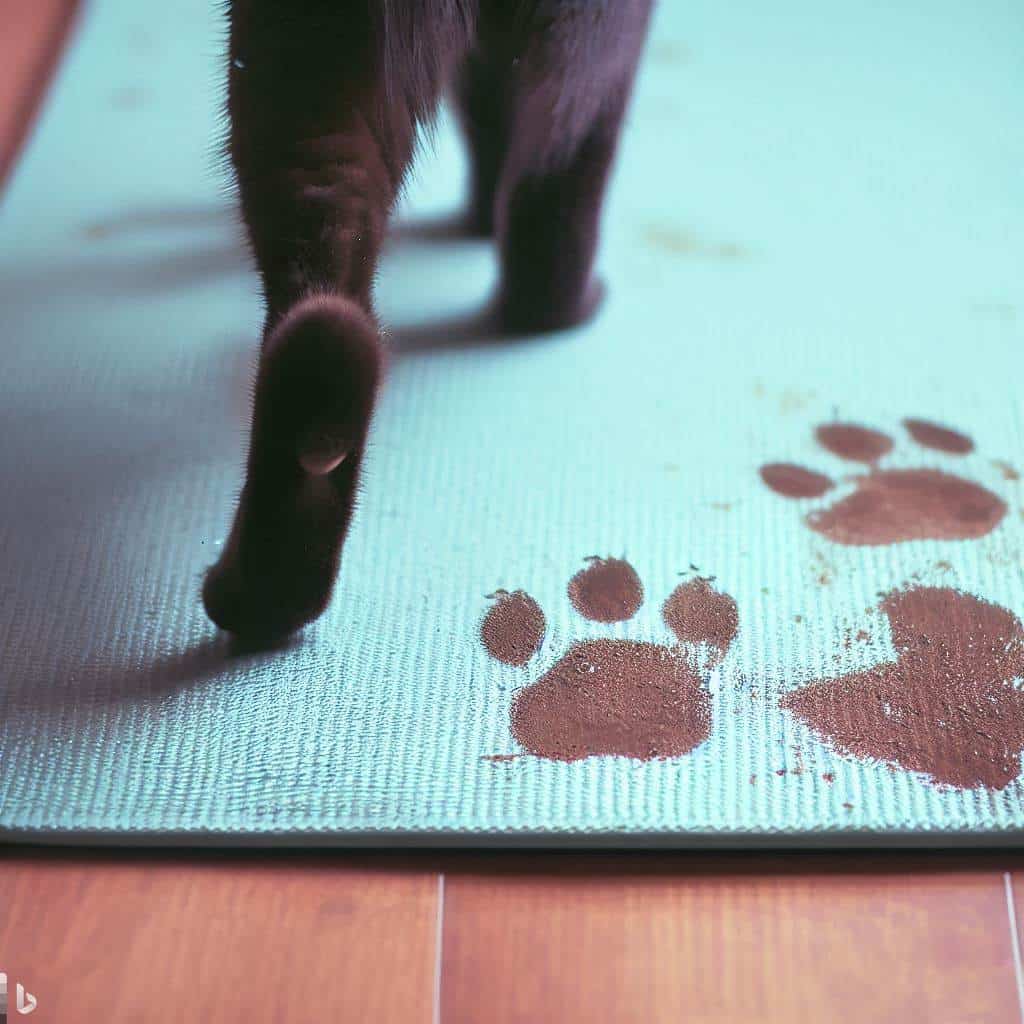 Maintenance Tips for Keeping Your Yoga Mat Clean Longer
Use a Towel During Practice to Absorb Sweat and Prevent Direct Contact with the Mat
Using a towel during your yoga practice is an effective way of preventing direct contact between your sweat and the mat. This will not only keep your mat clean for longer, but it can also help prevent bacterial growth that occurs with frequent use.
You can use any type of towel that you have available – just make sure it's big enough to fully cover your mat. If you're practicing hot yoga or any other intense physical activity, consider using a microfiber towel as it absorbs sweat much better than traditional towels.
Clean Your Mat After Every Use If Possible, Especially If You Practice Hot Yoga
Cleaning your yoga mat after every use is essential to ensure its longevity and prevent bacteria growth. If you practice hot yoga or any other intense physical activity, cleaning your mat immediately after each session is even more important.
Sweat buildup can create unpleasant odor and stains on the mat if left unattended for too long. Therefore, make it a habit to clean your yoga mat immediately after each use.
Avoid Using Harsh Chemicals That Can Damage Your Mat
Harsh chemicals can damage the material of your yoga mat and cause discoloration or degradation. Instead, opt for mild soap or detergent when cleaning your mat or consider using natural alternatives like vinegar (mixed with water) or essential oils (added to soapy water). Avoid using bleach or any detergent containing harsh chemicals as they can cause irreparable damage.
Yoga mat cleaning is a part of your daily practice
Keeping a clean yoga mat requires consistent effort on our part, but in return, we benefit from practicing on a hygienic surface that promotes wellbeing and physical health. With these tips in mind, you are now equipped to maintain a clean yoga mat for longer periods and avoid any potential harm caused by bacteria or harsh chemicals. Remember, taking care of your yoga mat is a reflection of your commitment to self-care and an essential aspect of your daily practice.